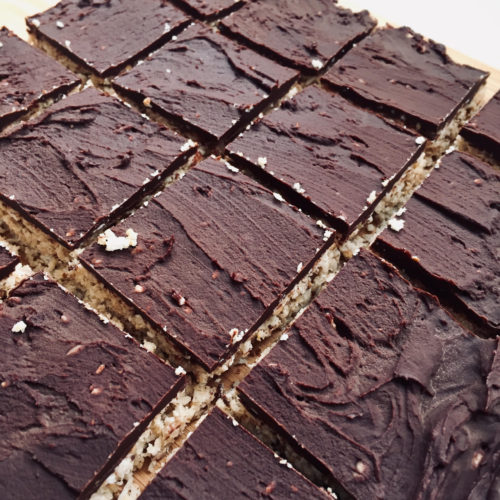 Coconut Pecan Bars with Chocolate Top
During Week 4 of The RESTART® Program (all about healthy fats), I make and share with participants some delicious 'coconut bombs' – the perfect and filling little treat that satisfies when cravings strike. This recipe is a variation – a different shape and doesn't need coconut butter (which is difficult to find here in NL and very pricey if you do!). These bars, made with lots of healthy fats, are quite filling so you only need a little. With the chocolate topping, these bars can easily pass as a dessert too!
Ingredients
Coconut Pecan Bars
2

cups

unsweetened grated coconut

(190g)

1/2

cup

raw pecans

(70-75g)

1/4

cup

coconut oil, melted

(60ml)

1/2

tsp

coarse sea salt

1

tsp

vanilla extract
Chocolate Topping
3.5

oz

dark chocolate (70% or higher), chopped

(100g)

2 1/2

tsp

coconut oil

2

Tbsp

maple syrup
Instructions
Place all 'bar' ingredients into food processor and mix until well-combined.

Press mixture firmly into parchment-lined tray (approx 8×8).

Put in freezer for 15 minutes to harden.

Create a double-boiler with a glass or metal bowl sitting on top of a saucepan filled with a bit of water (don't let water touch bottom of bowl). Bring to a boil then reduce to simmer.

Add chocolate and coconut oil and slowly melt while stirring continuously.

Once melted, stir in maple syrup and remove from heat. Let sit for 5-10 minutes.

Pour chocolate mixture over hardened bars and spread evenly over the top.

Put back in freezer for 10 minutes; once hardened, cut into 16 square bars.

Store in air-tight container in fridge.