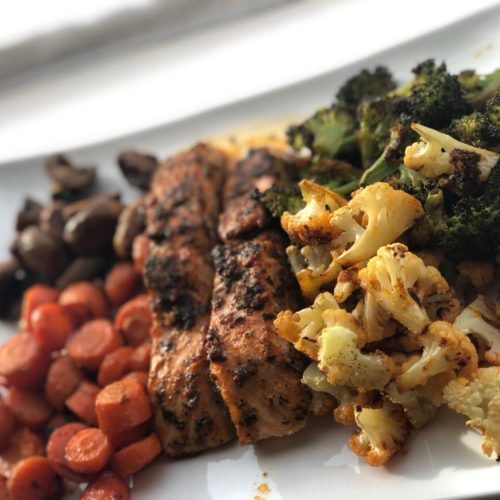 Oven-Baked Salmon and Veggies
Cooking fish has always been a bit tricky for me, but I love fish and know how good it is for our health so I was determined to find some simple and delicious ways to cook it that the whole family would enjoy. I have found that baking seems to be the most fool-proof and consistent (not to mention delicious) method to cook salmon.
This slightly spicy take on oven-baked salmon is a new favorite in our house, and provides the opportunity to use up lots of vegetables (I suggest you roast as many as you can fit on the trays! Leftover roast veggies are great in salads, with eggs for breakfast, to pack in a lunch). The sauce is so tasty that I sometimes double it to have extra to drizzle over everything. Enjoy!
Ingredients
Veggies:**
2

cups

carrots, thinly sliced sticks

(400g)

2

cups

cauliflower florets

(300g)

2

cups

brocolli florets

(300g)

2

cups

mushrooms, halved (or whole if small)

(250g)

2

Tbsp

extra virgin olive oil

sea salt and pepper
Sauce and Salmon:
1/4

cup

Extra Virgin olive oil

(60ml)

2

cloves

garlic, minced

2

tsp

onion powder

juice of 1/2 fresh lemon

1

Tbsp

paprika

1/4-1/2

tsp

cayenne pepper

2

Tbsp

fresh parsley, chopped

(or 1 Tbsp dried)

1

Tbsp

fresh basil, chopped

(or 1/2 Tbsp dried)

1/2

tsp

sea salt

4

salmon filets (wild caught), 4-6oz each

(130-170g)
Instructions
Preheat oven to 200C/400F.

Line 2 baking trays with parchment paper and drizzle with a bit of olive oil.

Place any root veggies** on one baking tray (single layer) and drizzle with olive oil, salt and pepper (feel free to add additional seasonings).

Bake for approximately 15 minutes.

In a small saucepan, combine olive oil, lemon juice, and all spices. Set over medium low heat and stir for 1 minute. Remove from heat and let mixture sit for 5 minutes.

Place salmon pieces in a large bowl and salt and pepper all sides. Then pour oil/spice mixture over the top and toss to cover. Put salmon on second baking tray along with any additional ("other") veggies**. Drizzle any remaining oil/spice mixture over the veggies.

Continue baking for approximately 12 more minutes (will vary based on thickness of salmon and how the veggies are cut).

Best if served immediately!
Notes
**Veggies:
Use any veggies you have on hand and/or prefer; place on trays according to cooking times:
Root/tuber vegetables – approximately 30 minutes to roast

Includes sweet potatoes, butternut squash, carrots, parsnips, beets, and also cauliflower and broccoli.

Other vegetables – approximately 12-15 minutes to roast

Includes asparagus, mushrooms, green beans, cherry tomatoes (make sure to cut in half).